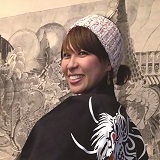 With the historical ocean-front village of Kamakura as life's jumping off point, a fascination with world languages and cultures carried Yuki on a journey across Germany, England, and Ireland, working in a variety education-related and food and dining occupations.

Upon returning to Japan and working as an English language educator, she worked for the Peace Boat NGO and traversed over 60 countries developing and operating study and cultural exchange programs with local organisations in various nations. Following the 2011 disasters in northeastern Japan, she then shifted gears to assist with integrating volunteers from abroad into the global disaster relief efforts in Tohoku. It was through her regional development work in Ishinomaki that she first came in contact with the world of Umari, and from there she was soon brought into the family at Roppongi Nouen.

Focusing on projects centered around food, local development, and education (major themes, here at Umari), Yuki is involved with the Tohoku Agricultural Training Center & Rebuilding Project, Morning University of Marunouchi, and Roppongi Nouen, with her eyes set on cultivating and producing her home town of Kamakura as a place where fun and excitement flourish.