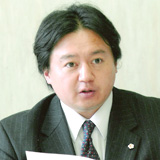 1969: Born. Blood type B.
1992: Graduated Keio University in Political Science, entering marketing agency Dentsu Inc. shortly after.
1997: Departed Dentsu Inc. in order to take up life on the farm in the Katori region of the Chiba countryside.
2003: Served as assistant director of international NPO, World Federalist Movement of Japan, acting as lobbyist for Japan's political involvement in the international courthouse established in the Netherlands (Hague) in 2002.
2007: Served as director of the Care-Wave operations committee.

– Life Experience –
Mechanic in the Dakar Rally across the Sahara Desert. (1991)
Summitted Mt. Kilimanjaro. (1991)
Participate in the UN Millenium World Peace Summit of Religious and Spiritual Leaders (2001)

– Life Work –
A 6th generation direct descendant of the nationally reverred Takayoshi Kido, who was instrumental in supporting the emporer in bringing about the Meiji Restoration, Hirotaka's great grandfather was then charged as a class A war criminal following Japan's defeat in WWII. This complex and turbulent lineage prompted Hirotaka to ponder exactly, 'What is The Emporer?' thus inspiring his interest in the in-depth study and research of Japan and the nation's ancient stories and mythologies, such as those found in the 'Kojiki' and 'Nihon Shoki' (The Chronicle of Japan).