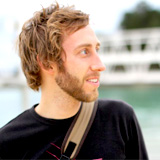 Justin received his B.S. in Psychology from Washington St. University, followed by a Masters in TESOL Education from Temple University in Japan, with the two major educational stints sandwiching several years working in education in both Japan and Korea, as well time at an internationally-focused PR and marketing firm in Tokyo and continual work in writing, editorial, and translation. He later returned to the Temple University Campus in Tokyo develop cirriculum and instruct programs for the university's academic English program while managing international student housing and supporting international student services and programs.

He then shifted gears by entering the video game industry, heading up localization projects and consulting on game, software, and entertainment product placement for both Japanese and overseas markets. While there, he was instrumental in the development of the Playism game publishing and distribution platform, creating a new market for small to mid-size game development houses and independent developers to distribute titles internationally.

Joining Umari in 2011 proved to be a pivotal personal and career move, bringing him close to some of Japan's most dedicated regional producers and local resources. Through Roppongi Nouen, International TERAKOYA, Morning University of Marunouchi, and other physical platforms, Justin is focused on connecting Japan's local resources with international players.