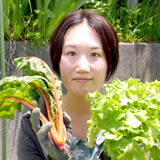 Born in 1987 in Toyoma Prefecture to a father who comes from a long line of local farmers and a strong fisherwoman mother. Graduated from Joshibi University of Art and Design.

At Roppongi Nouen IPPA has been responsible for the design of virtually all print materials, as well as various logo and image design for related events and projects. Making frequent appearances on the floor as part of the core restaurant staff, she also handled everything associated with 'Toyama' and an array of restaurant event planning projects.

In the spring of 2013 the young designer made the move back to her roots in Toyama where she continues to craft the visual aesthetic of Roppongi Nouen and Umari projects, making her an invaluable link between the big city and the wonders of her local region.